www.theguardian.com/politics/2018/jun/08/proof-that-excellent-bus-services-are-still-possible?CMP=Share_AndroidApp_Gmail
Letters from Alan Bond of west Somerset and Angus Skinner of Edinburgh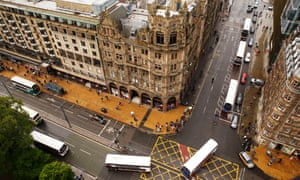 Jo Hillier's letter (8 June) regarding bus services could apply to most of Britain these days. Those of us who were working in the bus industry before, through and beyond the 1980s, warned of the perils of deregulation and privatisation and were ignored by the Thatcher government. Everything we warned about has come to pass, due to the failings of both the Tories and the Blair government as they took no action to address the issues.
The 1930 Road Traffic Act regulated bus services so as to avoid needless competition between operators and, as a result, many non-urban bus routes were able to operate by being cross-subsidised by the operators themselves in return for freedom from "pirate" operators muscling in on the more lucrative routes.
The present government, like all its Tory predecessors, will do nothing to improve bus services. This is clearly shown by its recent bill which specifically prohibits local authorities from setting up publicly owned bus companies, despite the fact that such companies provide better, cheaper and more reliable services as shown by Reading and Nottingham among a number of others up and down the country.
Here in west Somerset we now have one bus service provided by a national operator and that ceases to operate after 8pm. Between the M5 and the north Devon coast we now have an area larger than greater London which is a bus-free zone after 8pm and little better all day on Sundays. The time has come to drop the failed system put in place by Margaret Thatcher and Nicholas Ridley and replace it with a proper regulatory system provided by publicly owned bus companies. Thatcher's remark that anybody over 30 who travelled by bus is a failure has clearly come home to roost.
Alan Bond
Watchet, Somerset
• It is possible to run excellent bus services as those of us fortunate to live in Edinburgh know well. I had some friends from the US come to visit to see the castle, the history, the hills and the poetry. They had a great time. I asked them at the end what they had enjoyed most. "You, know, Angus, you have the best bus services in the world." I never drive my car in the city.
Professor Angus Skinner
Edinburgh